Automation for Changing Industries – Delta Features Complete Smart Manufacturing Solutions at Taipei Int'l Industrial Automation Exhibition 2018
Công ty TNHH Quốc Tế T.A.T hiện đang là nhà phân phối chính thức sản phẩm của Delta Electronics
Automation for Changing Industries –
Delta Features Complete Smart Manufacturing Solutions at Taipei Int'l Industrial Automation Exhibition 2018
TAIPEI, Taiwan, August 1st, 2018 – Delta, a world-class provider of industrial automation solutions, has announced its theme of "Automation for Changing Industries" for the Taipei Int'l Industrial Automation Exhibition 2018. Combined with its own factory experience, Delta will display its complete smart manufacturing solutions for factories, production lines and machines. For smart factories, Delta integrates industrial automation hardware and software, helping customers manage manufacturing execution and energy consumption in their factories. Delta will introduce its High Flexibility Multi-tasking Smart Production Line for the first time in Taiwan; and with a Smart Conveyor, it sorts customized gifts quickly for real-time order processing. High-end machine solutions are Delta's highlights, including the new Electric Servo Press, Screw Driving Robot and 3D Inspection Solution that support customers building smart factories and leading their industries to an automated future.

Simon Chang, president and COO of Delta Electronics, indicated that the digital manufacturing era has come, and industries must implement smart manufacturing and digitalization in response to market trends demanding more product variety, faster turnover rates, and higher quality. As a result, smart factories that integrate smart production lines, manufacturing execution and data analysis is a critical next step for all industries. As a leader in industrial automation, Delta not only assists customers build complete automated systems and smart production lines, but also implements smart manufacturing in its own factories. For example, the Delta PLC demo line enhanced our production capacity by 40%, reduced production space by 62%, and lowered labor demand by 88% after implementation of our smart manufacturing solutions and smart machines. This successful experience has been deployed on many of Delta's production lines to achieve complete smart manufacturing.

Andy Liu, general manager of the industrial automation business group at Delta Electronics, pointed that Delta has over 20 years of experience in the industrial automation fields, and has developed a wide range of automation product lines and software, covering field devices, drive and motor systems, sensors and meters, controllers and Ethernet switches, a manufacturing management platform, and data analysis software. Delta facilitates smart, green production with data analysis and management, energy consumption management, and quality inspection, helping customers from electronic assembly, metal processing, photoelectric and other industries build their own smart factories.

Delta is showcasing its High Flexibility Multi-tasking Smart Production Line for the first time in Taiwan. The 4 meters long production line simulates an automated production process and laser-engraves customized souvenirs for visitors. Visitors can place their order online with PCs, tablets, or mobile phones on Delta's MES system. The Production Management & Visualization Platform (DIAMMP) provides real-time production process and machine data monitoring. After the system confirms the order, the Smart Conveyor dispatches work pieces to different robot stations for pick-and-place, packaging, and final dispatch or storage. When receiving the production completion notification via SMS, visitors can scan the QR code in the SMS with Delta's barcode scanner, and the robot fetches the finished products automatically. Integrating Delta's software and hardware, the High Flexibility Multi-tasking Smart Production Line connects order processing, production line and monitoring system, showing visitors "future smart manufacturing" – highly efficient, complete automation and digitalization.

For Smart Factories, Delta provides complete smart manufacturing solutions focusing on equipment IIoT, data collection and visualization monitoring, and energy consumption data analysis, including:

• Equipment IoT Platform DIALink – DIALink collects the onsite equipment operation status and production data from CNC machine tools and PLC-controlled equipment. Matched with Ethernet switches, DIALink provides a unified interface connecting upper management systems for a complete IoT structure and data visualization. DIALink is equipped with edge computing technology for setting up specific system notifications based on fixed time intervals. Integrating seamlessly with Delta's MES system, SCADA software and third-party software, DIALink provides highly efficient data visualization and plays an important role in equipment IoT.

• DIAMES Manufacturing Execution System – With a visualized management platform, the DIAMES is used to manage all factory essentials, including real-time production scheduling, manufacturing execution, warehouse management, equipment maintenance management, and quality management.

• Delta Factory Energy Saving Management Solution - This solution applies Delta Power Meter DPM Series to factory facilities and production equipment and gathers energy consumption data. Delta's industrial Ethernet switches will then transmit the data to the DIAEnergie software for real-time energy consumption monitoring and analysis. DIAEnergie helps users discover heavy energy-consumption equipment, and formulate future energy-saving plans. This solution can become an integrated smart, green factory solution when matched with Delta's SCADA software to remotely control and monitor on-site and production equipment operation.

For Smart Machine Solutions, Delta is presenting its Electric Servo Press, Screw Driving Robot and 3D Machine Vision Solutions. The brand-new Electric Servo Press and Screw Driving Robot are applied to build a fully automated smart screw-locking and punching demo. It connects the management platform to achieve IIoT and real-time management visualization. The 3D Machine Vision for Precise Soldering Solution adopts Delta's latest 3D machine vision inspection and simulation system to achieve fully automated PCB inspection for electronics industries, delivering enhanced accuracy and quality.

We welcome you to join Delta to experience our smart equipment and manufacturing solutions for industrial upgrades at the Taipei Int'l Industrial Automation Exhibition 2018, TWTC Nangang Exhibition Hall 4F, stand M104, August 1st ~ 4th, 2018, in Taipei, Taiwan.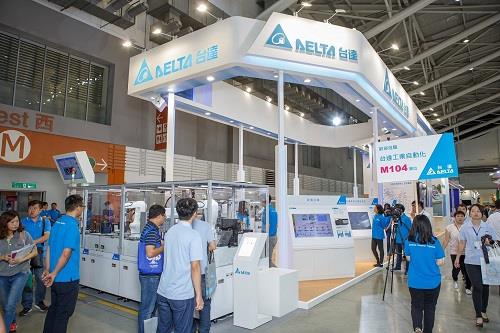 Cần hỗ trợ, tư vấn giải pháp về Sản phẩm Delta Electronics, Vui lòng liên hệ:
Công ty TNHH Quốc Tế T.A.T - Nhà phân phối chính thức của Hãng Delta Electronics
Mr. Thanh H – Sales Manager phụ trách sản phẩm Delta Electronics
Email: thanhhc@tatint.com / Điện thoại: 090.222.3646
Tin khác