Delta Presents Comprehensive Portfolio of Energy-Saving Building Automation and HVAC Solutions at AHR 2018
Công ty TNHH Quốc Tế T.A.T hiện đang là nhà phân phối chính thức sản phẩm của Delta Electronics
CHICAGO, January 22, 2018 – Delta, a global leader in power and thermal management solutions, today announced it is showcasing its portfolio of smart building automation and HVAC solutions at the AHR Expo 2018. Delta's building automation solutions, which are compatible with all open protocols used in building control (BACnet, LonMark, KNX, DALI, Modbus, etc.), facilitate comprehensive building control in a wide range of sectors (commercial, education, healthcare and more). Furthermore, Delta's complete offering to boost energy savings in HVAC systems include IoT-enabled industrial automation HVAC devices, the fan/pump vector control drive CP2000 series, as well as the high-performance EC fans, which are capable of achieving energy savings of up to 30 percent compared to traditional AC fans. Delta's products are designed for high reliability, and ease of installation and use, ensuring the lowest cost of ownership.

"Delta always strives to deliver the best customer solution for energy efficient buildings. Our concept of a Delta Building is defined as one that takes advantage of the latest technologies in energy efficiency and renewable energy combined with an enhanced building occupant experience," said M.S. Huang, President of Delta Americas. "Our building automation and HVAC solutions are a vital component of this goal. Delta offers an extensive offering of products such as a complete suite of building automation controls, variable frequency drives, and DC fans to name just a few."

Around the world, Delta has established a proven track record in deploying energy-saving building automation and HVAC solutions. For instance, our HVAC and building automation solutions are applied in Delta's LEED Platinum-certified green building in Fremont, Ca., to enable 90 percent annual energy savings when compared to traditional buildings. In addition, the DALI lighting control system installed at Manchester Airport in the United Kingdom contributes significantly to the overall annual energy savings of 89 percent in its lighting infrastructure.

Key highlights at Delta's booth this year include:

Building Management & Control

Visitors to AHR will see first-hand Delta's broad suite of building control and energy efficient products. Delta, long known as a global leader in engineering the highest efficiency products, will for the first time, bring together their subsidiaries Delta Controls, and LOYTEC into the same booth. Delta Controls and LOYTEC leverage the latest sensor technology, data analytics and building automation platforms. From the compatibility of LOYTEC's technology with all open protocols used in building control (BACnet, LonMark, KNX, DALI, Modbus, M-bus, EnOcean and more), to Delta Controls Inc.'s fully programmable native BACnet O3 Integrated Room Controller, Delta has a solution that can add intelligence to any building.

Delta's global leadership in thermal management and industrial automation converge to deliver enhanced energy conservation, smart control and reliability in HVAC systems across the industrial, commercial and residential segments. Key portfolio highlights at our AHR 2018 booth include:

Industrial Automation for HVAC

The Power Meter DPM-C520 series, which allows for data transmission of energy usage and monitoring via Modbus (and WiFi with the wireless model DPM-C520W), a new a Bypass Panel Package and the Active Front End Solution, will all be making debuts at AHR. Delta will also be demonstrating its Cloud connected Pump Panel with IIoT Cloud, which enables remote monitoring, access and maintenance. The vector control drive CP2000 series, designed for energy efficiency in HVAC systems' fan/pump operations through variable frequency control, will be on display as well.

Electronically Commutated (EC) Fans & Blowers

Delta's EC fan technology provides significant energy savings of up to 30 percent with increased life compared to traditional AC belt-driven systems. Delta EC fans are designed and tested to meet extreme environmental conditions and are available in a wide voltage range. Standard and customized EC fan and blower designs are available for a range of industries and applications including in-row cooling, air handing units, chillers and evaporative condensers.

Breez Bathroom Exhaust Fans

Delta will also be displaying the expansion of their line of Delta Breez Integrity Series energy efficient, low noise bath fans. New features within the series include built-in humidity sensing and dimmable edge-lit LED lighting, with an optional Bluetooth® speaker. All Delta Breez Integrity series fans boast brushless DC motor technology and are ENERGY STAR® qualified. Some models can exceed ENERGY STAR efficiency requirements by as much as 339 percent. In addition, Delta's new ceiling fans, air purifier, and air mover product lines will be on display.

Cabinet Thermal Solutions

Delta will also display its line of next generation cabinet thermal management solutions. Featured will be cabinet thermoelectric coolers, air conditioners, heaters, and heat exchangers. Delta's thermal management solutions offer low power consumption, low noise, and compact designs.

UNO Indoor Environment Quality Service Solution

Delta will be previewing its UNO solution to the U.S. market for the first time at AHR. Utilizing IoT architecture, this solution integrates indoor environment sensors, high-efficiency heat exchange equipment and cloud services to create a dynamic indoor environment for building occupants. By facilitating seamless, strategic control, this solution enables facility managers to expertly balance energy efficiency, indoor air quality, and zone comfort within commercial buildings.

Delta was at AHR Expo in Chicago, USA at booth 3923, from January 22 to January 24.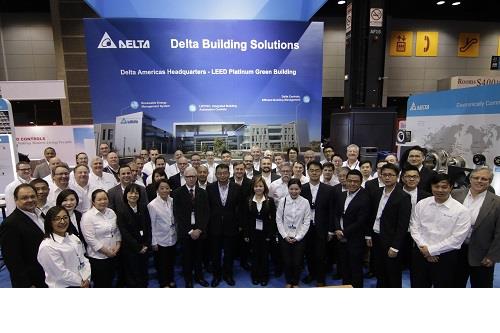 Source: Delta Electronics
Cần hỗ trợ, tư vấn giải pháp về Sản phẩm Delta Electronics, Vui lòng liên hệ:
Công ty TNHH Quốc Tế T.A.T - Nhà phân phối chính thức của Hãng Delta Electronics
Mr. Thanh H – Sales Manager phụ trách sản phẩm Delta Electronics
Email: thanhhc@tatint.com / Điện thoại: 090.222.3646
Tin khác